Hope friends – meet  Diane Markins, author of Women in High Def, Boldly Living Your Purposes with Vibrant Clarity.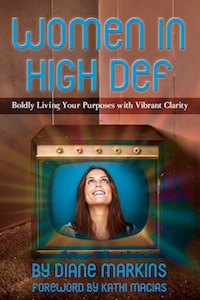 BUY THIS  BOOK ON AMAZON!
Falling Down Gorgeous
(Excerpt from Women in High Def: Boldly Living Your Purposes with Vibrant Clarity)
Time takes its toll on all of us. Parts of me that were once up here are now down there. My face, once smooth and fresh was becoming a bit weathered and wrinkled. Other areas that used to be firm are now wiggly. As I turned fifty I began to notice that I was becoming invisible, based on my appearance. That's a big fat horse pill to swallow for my ego. But that's okay. The good news is that when people start to see less of me, they see more of Jesus. He's much more appealing and has no hidden agenda.
I hate to admit it, but I still enjoy being noticed on occasion. My husband and I went on a date to a very fancy mountaintop restaurant overlooking the city. I dressed for the occasion in my fitted black slacks, silky blouse and high heels.
I followed the maitre de to our table, my husband right behind me. I was feeling pretty good about myself and strutted a bit as we crossed a large open expanse of the room. As my stilettos went from carpet to wood floor something strange happened…I began to skate, stumble and flail about, for what felt like ten excruciating minutes, before finally landing flat on my keister. For endless moments all sound ceased except the quiet music in the background. Diners, servers and kitchen staff gaped at me, frozen in mid-action.
Graciously, I was helped up, escorted to and seated at our table, where they elevated and iced my swollen ankle. Then—to my horror—the paramedics arrived, causing an even bigger stir. Servers and managers came by frequently to check on me. Finally, our fellow diners made their way to our table as they departed to share their own "fall down" tales.
Earlier that evening, I had hoped for a little extra attention. But this wasn't what I had in mind. Now I was just grateful I hadn't chosen the skirt I had considered that was still hanging on my closet door. My experience that night was a great reminder that the only beauty that matters is what the Lord puts in our hearts. Everything else "falls" short in the end.
About the Author:
Diane Markins has always aspired to live in High Def. She uses her radio show, writing and speaking to inspire women to transform their lives from mediocre and complacent to bold and vibrant. She settles for nothing less in her own life as a wife, mom, grandmother, friend and colleague. Diane writes two blogs, WomenInHighDef.com and WordsInHighDef.com, is a regular contributor to the Presidential Prayer Team website and CBN.com. She and her husband of 34 years work and live close to their children in Arizona.
Save
Save
Save