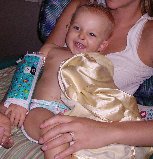 Julie and Austin Locke had the privilege of loving their son his whole life. At 2 1/2 years old, Dax Locke, lost his battle with cancer and received his angel wings.
Julie and her husband learned to "Cherish Every Moment" which is a gift from God that not all people have come to understand in this busy world.
Julie honestly asks the question – Why when I loved my child so much would God allow him to suffer and then take him away?
We do have suffering in this world thanks to world changers – Adam and Eve, the very first parents. Because they went against God, the perfect world that once existed became full of disease, distress and destruction for every generation to follow. (Genesis 3) It's in this dark world, God's love shines brighter. Faith reaches higher. Trust grows deeper.
God doesn't leave us where we are. He cares about our hurting hearts.
He sent hope to the world. "God demonstrates his own love for us in this: While we were still sinners (against God), (his son Jesus) Christ died for us." Romans 5:8  – From that love we have the hope of heaven.
Resources to Help You on Your Journey
Why would a loving and holy God allow a child to suffer through a serious illness like cancer  – R.C. Sproul